Are you searching for an ebook that covers the topic of Surviving Life with Narcissists or Energy Vampires?
Not only is this an amazing, empowering read, but after you're finished, you get to sell this ebook to the people on your list! This ebook comes with private label rights. That means you can edit the Canva template, add your own company name and coaching upsells, and share or sell to your own audience.
People are obsessed with narcissists right now. In fact, the level of interest is kind of crazy. Check out this search engine data:

13,275 searches for "Energy Vampire". And a whopping 1,146,667 searches for Narcissist. I don't even know how to say that number.
Thinking you'd like to sell this ebook as your own, after you read it? That's a really smart idea. I'm glad you thought of it.
You can change this ebook title to be about narcissists if you want! Just open in Canva, and swap out the text for your own words. You can even do it with the cover art! Takes a few minutes tops. Change your headlines, skim through the body text and make your edits. Then download as a PDF, upload to your selling platform and you're good!
Here's what topics are covered in detail inside:
(6300+ words total)
1. What's an Energy Vampire?
2. Identify the Energy Vampire in Your Group
3. Energy Vampires and Boundaries
4. What Triggers an Energy Vampire Toward Selfish Behavior?
5. Why Choose to Stay With an Energy Vampire?
6. How Does Being With an Energy Vampire Affect Your Health?
7. The Importance of Self Care When Dealing With an Energy Vampire
8. Energy Vampires and Trust Issues
9. How to Snatch Back Your Energy From an Energy Vampire
10. Survive and Thrive Among Energy Vampires: Where to Find Emotional Validation
We've placed those articles into this Canva ebook template and formatted the text. Added page titles, a table of contents, and space for you to add your company name plus upsell your coaching packages and products.
What's included when you order from this page today?
You'll receive a link to a Canva Template that contains the following:
27 pages of formatted & styled ebook text, including space to insert your branding and upsells
10 articles on the topic of energy vampires (the ones I just listed above)
Cover art (same image that shows up at the top of this page)
Q: What Can You Do with This High Quality PLR Ebook Template in Canva?
A: Once purchased, the Canva template (with the articles already inputted and styled for your convenience), can be edited and changed however you like.
You may edit this content to your liking, including deleting parts that don't represent your views; adding your own examples and stories, or cutting and pasting different sections of text into different spots.
Brand this ebook template, including the written content, with your name, company name, logo and images, and then set up to sell in an ecourse or ebook.
Here's a screen shot of the Canva template. Replace the Generic company line with YOUR name if you like!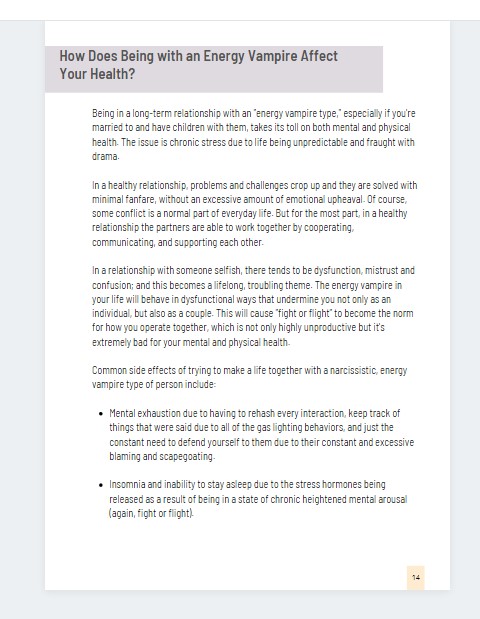 How to use this Narcissist/Energy Vampire Canva ebook template with private label rights:
After your order goes through, check your email. You'll receive an email which contains the file link. Click the link which will open the document in Canva. You get to edit the copy, add images if you like, input some company details and change the copy any way you like!
When done making your changes to the Canva template, download your edited draft back to your computer and save the file as a PDF. The PDF version of the ebook is what your customers will receive.
Log into your chosen digital selling platform. Create a new product and name it, set a price and fill out other ordering info. Upload the PDF file of this ebook.
Get the buy button code or link to order, to pop into your sales page. That's what you'll share with your readers.
Create a terrific sales page, and link to it from all your online hangouts and your website. Talk up your new ebook that you're offing. Start seeing the orders come in. You're good to go, and you get to help people live better while creating profits. Woo hoo!
NO NEED to Design this Ebook from Scratch
The work's already been done. You can brand your ebook with your company name in mere minutes of downloading this done-for-you Canva template. Make your final tweaks and upload your ebook to any of the following platforms (or another of your choice):
e-junkie.com
Gumroad
If you use any of the below companies to host your website or e-commerce store, you should be able to sell digital products from there, including ebooks:
Shopify
Teachable
Squarespace
Wix.com
"Buy now" opens up in a new page on Wordfeeder.com where you can learn more and order. NOTE: If you have not already purchased the articles, check OPTION 1 in the dropdown.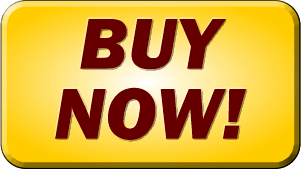 Buy now if you want to learn from OR sell a great self help ebook immediately!